Biological Name
The biological name of this flower is Cyclamen.
Petals
The petals of these flowers are upswept and they are big in size.
Color
The flower is brightly colored in shades of pink, purple and sometimes even white.
Origin
The flower is native to Iran, Mediterranean basin and Europe. One species of Cyclamens is also found in Somalia.
National Flower of San Marino
Cyclamen is the national flower of San Marino.
Cyclamen Information
Cyclamen is a genus present in the family Primulaceae and it has 23 species. These plants grow from tubers. The leaves of these flowers are variably patterned and they are valued for their flowers. The plant has a tuber and this gives rise to the flowers, roots, and leaves. Leaves come out in autumn and they die in spring after growing through the winter season. In Mediterranean regions, the plant stays dormant during the summer season.
There is a separate stem for each leaf and the shape of leaves in species is different and sometimes differences are found in the specimens that belong to the same species.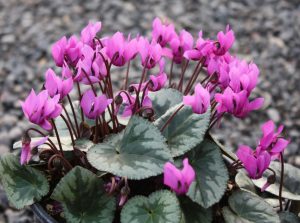 Cyclamens Facts and Uses
Some of the top facts and uses are:
The blooming time for flowers is different in each species. Some species bloom in winter while others do in summer and winter.
The petals are also variably shaped depending on the species. Some are longer while others are round and stubby.
Cyclamens are sold by florists and they are frost-tendered.
There are different cultivars and they may vary in color from red and purple to bright pink.
When the temperature is above 20 degrees, the plant goes dormant.
Cyclamen Medicinal Uses
In homeopathic medicine, this flower is used for bringing on late menstruation. It is also used to increase libido.
Cyclamen Flower Art
Florists sell this flower. It is used for decoration of handfastings.