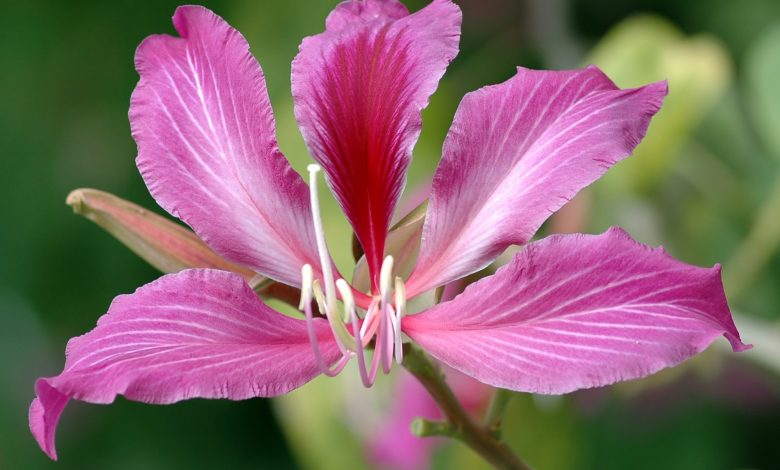 | Biological Name | The biological name of this flower is Bauhinia blakeana. |
| --- | --- |
| Color | The flowers are purplish-red in color. |
| Petals | The petals of this flower are five to six in number and resemble the orchid flowers. |
| Origin | The flower is native to Hong Kong. |
National Flower of Hong Kong
The National flower of Hongkong is Blakeana, and it was chosen as the national floral emblem of Hong Kong towards the end of the 20th century.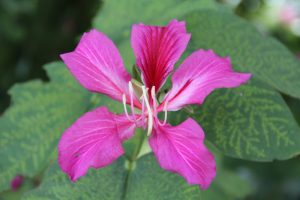 Bauhinia blakeana Information
The flowers of this plant are fragrant and resemble the flowers of orchids. The diameter of these flowers is 10 to 15 centimeters. The blooming time is between November and March. The plant was discovered in Hong Kong in 1880 and now it is cultivated in many places around the world.
In the Hong Kong Botanical Garden, there is a tree of this specie from which all the cultivars have been derived. The extensive plantation of this tree started in the country in 1914.
The genus name of this flower is Bauhinia. This is the same name used for the flower by people around the world. Since it originated in Hong Kong and resembles Orchids, the flowrate is often referred to as Hong Kong Orchid. Its Chinese name is "洋紫荊 and that is the word locals use for this flower.
Bauhinia blakeana Facts and Uses
The shape of the Bauhinia leaf is like that of a butterfly or a heart.
The leaves grow up to 10 cm in length and are the same size in width.
Locals in Hong Kong refer to the leaves of this flower as 'clever leaves' and consider it a symbol of wisdom.
People also believe that this flower will bring them good luck so they use them as bookmarks.
Bauhinia blakeana Medicine Uses
There are no known medicinal uses for this species.
Bauhinia blakeana Flower Art
Due to its fragrance and color, the flower is a good choice for ornamental use.