| Biological Name | The biological name of this flower is Lycaste skinneri. |
| --- | --- |
| Color | Mainly, the flowers are white in color but sometimes, they can be lavender or pink. |
| Petals | Each flower has three petals that droop from the flower. |
| Origin | The flower originates from Mexico, El Salvador, and Guatemala. |
The National Flower of Guatemala
The white Nun Orchid is the national flower of Guatemala.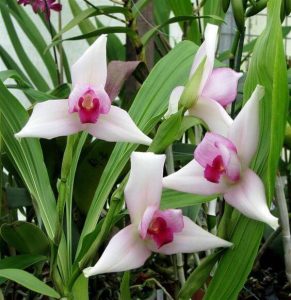 White Nun Flower Information
The flower has pseudobulbs from where the leaves arise. The flower grows up to a length of 15cm. the flowers bloom from November to April. Most of the blooming takes place in the first two months of the year. In each bloom, 4 to 12 flowers are produced in a single plant. The blooming period can range from 6 to 8 weeks in duration.
The fruit of this flower is in form of a capsule. In this capsule, millions of seeds are present. The interesting thing about this flower is that it needs a particular species of fungus to assist it in germination. Normally, the plant grows in humid forests and is present 1650 meters above sea level.
White Nun Flower Facts and Uses
This National flower is called monja Blanca in the native land.
The flower is a symbol of peace in the country. This is due to the fact that it is white in color and white is an international symbol of purity and peace.
Moreover, the plant can be easily hybridized since it is white in color.
White Nun Flower Medicine Uses
Normally, orchids are used for medicinal purposes around the world but there are no clear medicinal uses for this particular species.
White Nun Flower Art
Because of its beautiful and pure flowers, the flower is used for ornamental purposes. It symbolizes peace and beauty to gardeners who tend to grow it.