Biological Name:
The biological name of this flower is Papaver Rhoeas.
Colour:
The flowers are dark red in colour which is why it is also commonly called as the red poppy.
Petals:
Each flower has four petals that overlap each other. At the base of the petals, there is a black dot that connects in the center of the flower.
Origin:
The flower grows in agricultural fields and a weed. Since it is a herb, it has been affected greatly by herbicides and its population has decreased.
National Flower of Poland:
The national flower of Poland is the red poppy or the corn poppy. Since it grows in agricultural fields, it is also called the field poppy.
Red poppy Information:
The flower is a symbol for the soldiers that have died in the World war 1. Each stem has a single flower on it and the flowers are large in size. They are also quite showy and are about 100 mm across. During a single season, the plant can produce up to 400 flowers when it is warm. However, the flowers only last for 24 hours.
The species are different on the basis of the hair on the stem. In some species, the hair is pressed close to the stem while in other species, it is held at right angles. When the tissues of the plant start to break, the plant produces a latex which is yellow or white in color.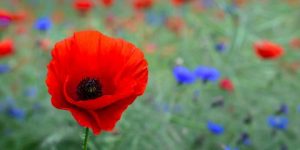 Red Poppy Facts and Uses:
The seeds of this flower are used as food. They can either be eaten as such or they can be used in bread making.
The oil extracted from this plant is used in France.
Red poppy Medicine Uses:
The flower is used to relieve pain and aches. It was also used for making a syrup to make kids go to sleep.
Red Poppy Flower Art:
The flower is grown for ornamental purposes due to its showy flower and vivid red color.