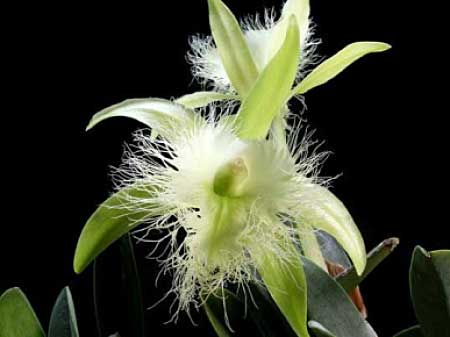 | Biological Name | The biological name of this flower is Rhyncholaelia digbyana . |
| --- | --- |
| Color | The flower is green in color, with light and dark coloration in different places. |
| Petals | The flower has 5 petals that are spaced apart from each other. These petals have spikes between them. |
| Origin | This species of orchid is native to Honduras and Costa Rica. |
The flower was chosen as the floral emblem of Honduras in November of 1969.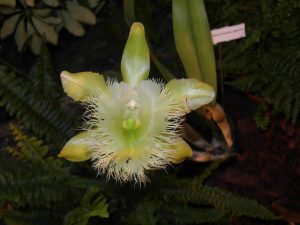 Rhyncholaelia Digbyana Information
The flower is an epiphyte that is easily differentiated from other members of its species. Pseudo bulbs are present in this plant that is shaped like clubs. These club-shaped bulbs are covered by a white sheath. The leaves are leathery in texture and their color ranges from grey to green. These leaves are elliptical in shape and they grow up to a length of 20 cm. A single flower is present on each branch which is accompanied by a large leaf.
Normally, the flowers are green. Some of them may even be creamy white. Very rarely are there any pale pink flowers. The flowers grow up to 7 inches in diameter and they have lips. For digbyana, a single lip is present that has three lobes.
Rhyncholaelia digbyana Facts and Uses
The plants grow well in humid environments. They need up to 60% humidity for thriving well.
After the growth period is complete, the flowers need a dry period too.
You can grow these flowers yourself with the help of fertilizers which are to be added in required ratios.
These flowers grow well where more light is present.
Rhyncholaelia digbyana Medicine Uses
There are no known medical uses for this flower.
Rhyncholaelia digbyana Flower Art
This National flower is not used for ornamental purposes since it is neither attractive nor does it give off a pleasant fragrance.